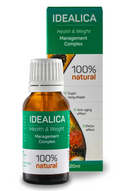 Description
Idealica

– Un complemento ideal para tu dieta
– Fórmula especialmente desarrollada
– Producto original para el mejor rendimiento
– Ideal en combinación con una alimentación saludable
Composición: Rambután, Kiwano, Chirimoya, Extractos de té y café verde, Extracto de fruta de guaraná, Vitaminas B1, B12 y C, L-Carnitina, Extracto de naranja, Extracto de Cordyceps
Contenido: 20ml
Modo de empleo: Diluir 25 gotas en un vaso de agua o jugo de frutas. Tomar 2 veces al día antes de las comidas.
Preferiblemente para el desayuno y el almuerzo. El curso recomendado es de 28 días. Aconsejamos no tomar las gotas por la noche.
Instrucciones de almacenamiento: Almacenar seco, cerrado y a temperatura ambiente.
Advertencias
Contraindicaciones: la intolerancia individual de los componentes es posible.
Después de abrirlo, guárdalo en un lugar seco y fresco en la oscuridad no más de 1 año.
Payment and security
Your payment information is processed securely. We do not store credit card details nor have access to your credit card information.