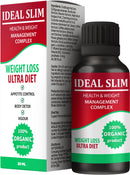 Description
VEDIAMO COSA DICONO GLI SCIENZIATI PERCHÉ È COSÌ DIFFICILE PERDERE PESO?
Normalmente, quando si tratta di perdere peso, bisogna rinunciare a certi alimenti. Tuttavia, i chili in più potrebbero non andare via così facilmente. Ciò è dovuto al fatto che il corpo, senza un'alimentazione sufficiente, non si affretta a scomporre i depositi di grasso disponibili. Anzi, cerca di produrne ancora di più.
25 GOCCE - E I RISULTATI NOTERANNO TUTTI!
Ora puoi:
Indossare gli abiti di 2-3 taglie in meno
Ottenere più attenzione e complimenti
Fare le cose che prima stavi sognando!
Nome del prodotto: IDEAL SLIM™;
Codice prodotto: IDE60_IT;
COD – "Cash On Delivery";
Prodotto sicuro, naturale;
Payment and security
Your payment information is processed securely. We do not store credit card details nor have access to your credit card information.