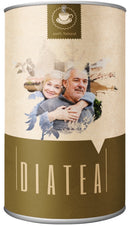 Description
DIATEA
DiaTea è un tè naturale Supporta la normalizzazione della glicemia
DIATEA consiste solo di ingredienti naturali
Estratto di foglie di betulla (Betula Folium).
Estratto di bacche di ginepro (Juniperi Fructus):
Estratto di pisello verde (Myrtilli folium).
Estratto di Foglia di Mirtillo (Phaseoli Fructus sine semine).
Estratto di radice di prezzemolo (Petroselinum radix):
Estratto di Mali Fructus
Estratto di corteccia di cannella (Cinnomami cortex).
ISTRUZIONI PER L'USO DIATEA
Sciogliere fino a 2 cucchiai di tè in un bicchiere di acqua calda e berlo due volte al giorno 30 minuti prima di colazione e cena.
Assicurati di bere molti liquidi e di ridurre l'assunzione di zucchero e sale.
Ripetere il processo ogni giorno per 40 giorni consecutivi per ottenere risultati duraturi.
Guida all'ordinazione genuina
Prodotti DIATEA a prezzi convenienti
Questo prodotto non è un farmaco e non è un sostituto dei farmaci.
I risultati possono variare da persona a persona.
* Questo annuncio è basato su finzione e la sua somiglianza con qualsiasi persona, luogo o evento reale è puramente casuale.
Payment and security
Your payment information is processed securely. We do not store credit card details nor have access to your credit card information.